About Amazon Glacier and FastGlacier
Amazon Glacier is an extremely low-cost storage service ($0.01 per Gb per month) that provides secure and durable storage for data archiving and backup. It is optimized for data that is infrequently accessed and for which retrieval times of several hours are suitable.

In order to effectively use Amazon Glacier you need a client software.

This is where FastGlacier comes into play. Providing you an easy to use graphical interface to Amazon Glacier, it allows you to start using Amazon Glacier immediately, saving you time and money.
Getting Started with FastGlacier
Working with Amazon Glacier
Access Control
Miscellaneous Help Articles
FastGlacier 4.1.5 Freeware

People like FastGlacier!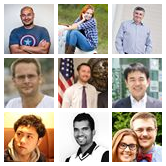 "Your client software has been wonderful to use and has made working with the Glacier service a pleasant experience. What I like most about FastGlacier is that it's extremely easy to use, even for non-technical/IT people." - Rob Costello, Pro User
"Your product recently saved me after I deleted everything I had locally. But with FG, I restored all our video and photos from AWS. Phew! Divorce averted!!" - Jamie C., USA
"Spending ~$40 on @FastGlacier was one of my best software purchases." - J Biggert (Twitter)